Fall is the season for spice cakes, and this spice cake is everything that you want in a cake- it is fluffy, moist, and has wonderful flavor!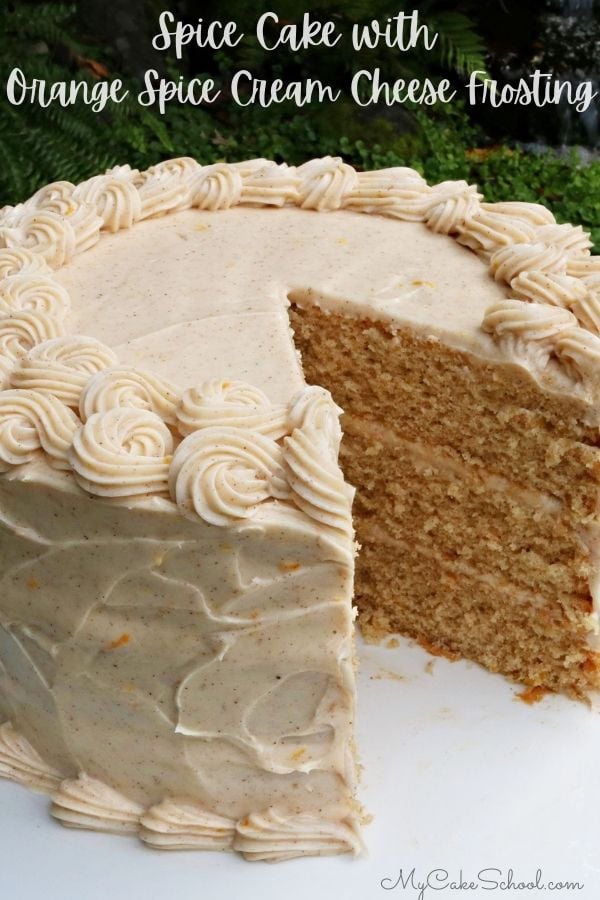 We've filled and frosted this delicious spice cake with our orange spice cream cheese frosting. The orange flavor in this recipe complements this spice cake perfectly, and we love to pair our spice cakes with cream cheese frostings!
LEARN CAKE DECORATING WITH MY CAKE SCHOOL! SHARING CAKE TUTORIALS, CAKE RECIPES, AND MORE!
Keep this recipe in mind for your fall and winter celebrations, and anytime you're in the mood for cozy spiced goodness.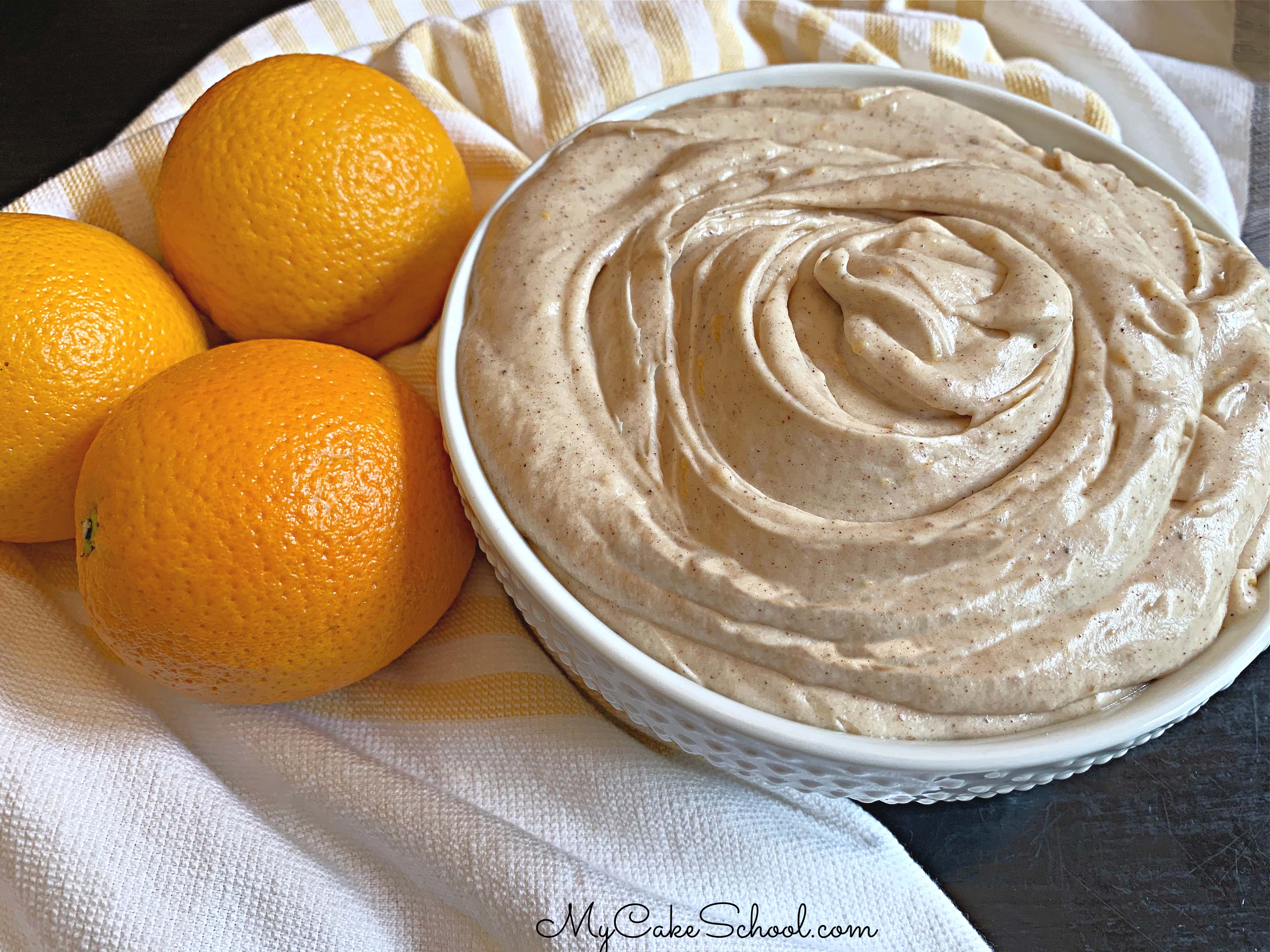 HOW TO MAKE SPICE LAYER CAKE
*You can find the full, printable spice cake recipe further down, but here is a quick rundown!
We use the traditional method of mixing for this spice cake, which gives us soft, fluffy cake layers.
In a medium bowl, add the flour, baking powder, baking soda, salt and spices.  Whisk for 30 seconds to ensure that the dry ingredients are aerated and evenly distributed.
In another bowl, add the buttermilk, oil and vanilla.  Set aside.
In the bowl of your mixer, add the butter and mix at medium speed until smooth.  Gradually add the white and brown sugars. Continue to mix on medium speed for 3 to 5 minutes  (a bit longer if using hand mixer) until lightened in color and fluffy.
Next, add the eggs one at a time, mixing until the yellow of the yolk disappears.
Alternately add the flour mixture and the buttermilk mixture, beginning and ending with the dry ingredients (3 additions of dry ingredients and 2 of liquid ingredients).
Finally, we divided the batter between our three 8 inch cake layers and baked at 350 degrees  for 23 to  28 minutes or until a toothpick inserted in the center comes out clean or with just a few crumbs attached. Let cool in pans 5 to 10 minutes then turn out.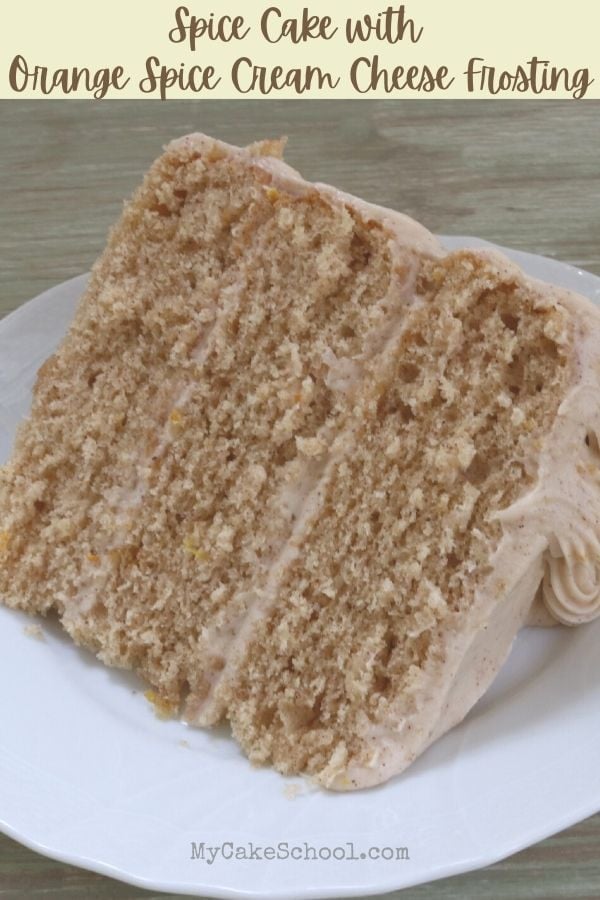 FREEZING THE CAKE LAYERS
No matter what cake we are making, we always wrap and freeze our cake layers whenever time allows- it makes for a cake that is even more moist!
We wrap the freshly baked cake layers individually while they are still warm with a layer of plastic wrap and foil. (If you'd like, you can place each layer on a foil-wrapped cake board for more stability).
Then, into the freezer they go for at least a few hours. (They can stay in the freezer for up to a few months and would still taste as fresh as the day they were baked).
Remove from the freezer and allow to thaw while still wrapped until condensation forms on the outside. Then unwrap and bring to room temperature (or close to room temperature) before decorating.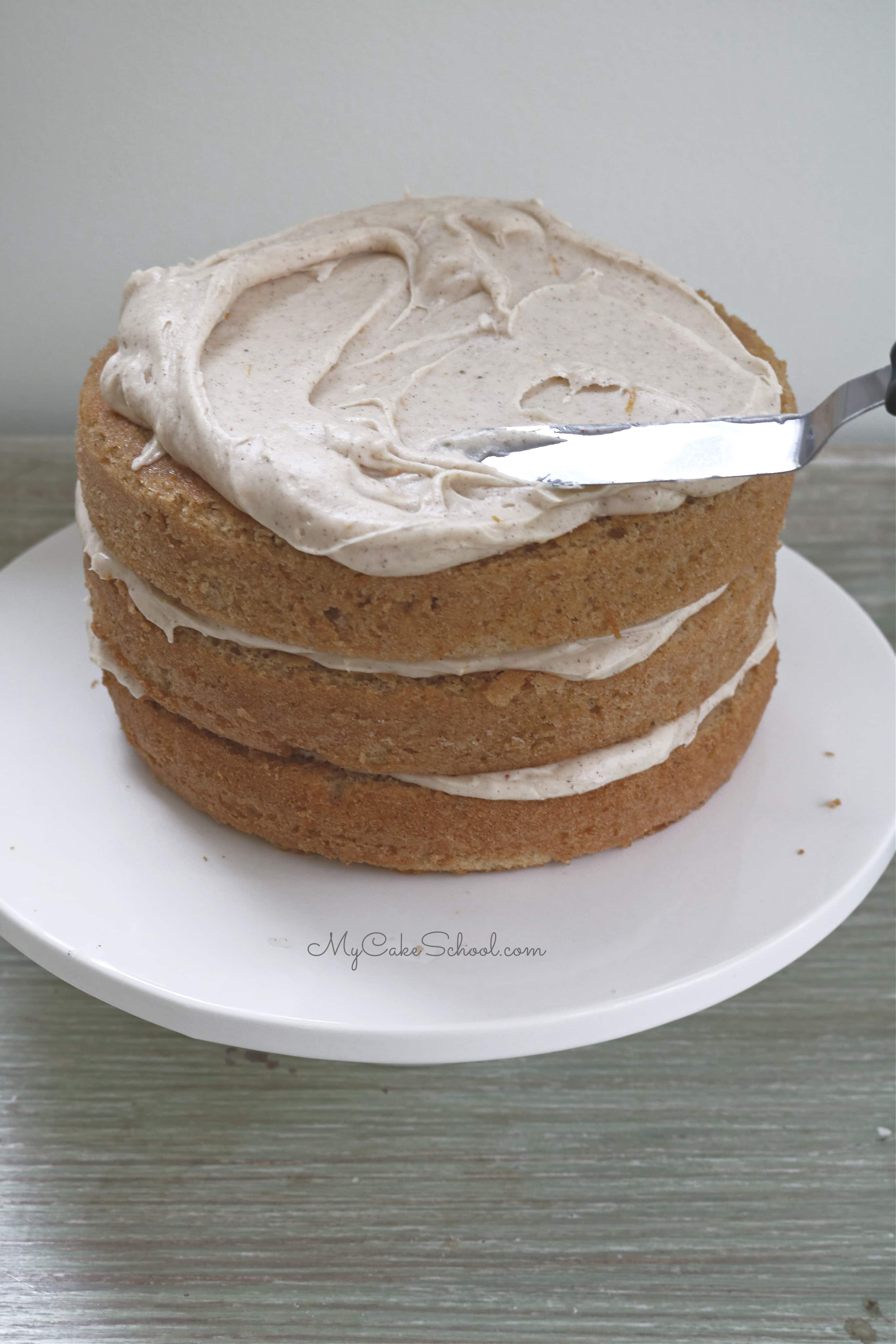 FROSTING THE SPICE CAKE
For this spice cake recipe, we went with an easy and delicious Orange Spice Cream Cheese Frosting. We used it as our filling too- the flavor is SO good and you can whip up a batch in no time!
What other frostings pair well with spice cake?
A simple cream cheese frosting is also a great choice, as well as our orange cream cheese frosting,  whipped cream cheese frosting, classic buttercream frosting and more. You can hop over to our Frosting Recipes Section for even more ideas!
To decorate, I used a star piping tip 21 to create the reverse shell borders around the top of the cake. Around the sides of the cake, I just gave the frosting a textured look with my offset spatula.
*Remember that cream cheese frostings like this Orange Spice frosting are softer than American Buttercream frostings. If the frosting becomes too soft as you are working with it, you can pop it in the refrigerator for a few minutes to firm it back up again.